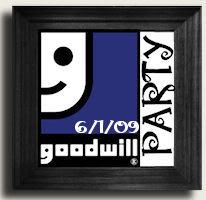 Thrifty Decor Chick is hosting a Goodwill Party. I LOVE Goodwill and other stores like it. The treasures awaiting you there are endless!!!
Like this sweetie for $4.

Or these apothecary jars for $5. (The one on the far left was $8 at Aldi's)
Please ignore the ugly wallpaer. I strongle desire to paint SOON!!!